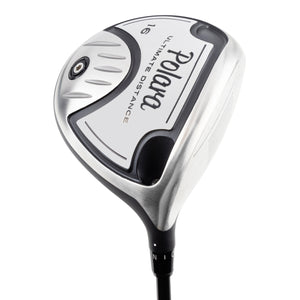 Custom Ultimate Distance Driver 16 (Ladies Right Hand)
Sale price Price $279.95 Regular price $199.00
The Ultimate Straight driver is the only driver made specifically to achieve the best straight-distance performance for Polara balls
If you need a length that is not shown below contact us at  customerservice@polaragolf.com 
The customization process and shipping time for our Custom Ultimate Distance Driver 16 takes about  2 weeks.
We use  Kelly's Golf to customize our drivers.
Oversized 475 cc super high Moment of Inertia club head. The higher the MOI, the more resistance to twisting and the more forgiving the club will play. We moved weight from the center of the driver to the toe and heel to increase the MOI and resist twisting at impact. Mishits will fly straighter, and the club will be more forgiving when ball contact is made away from the center toward the toe or heel.
Hot non-conforming face exceeds the USGA CT limit. CT is a measure of the amount of time the ball is in contact with the driver's face and corresponds to springiness.
Loft: 16
Shaft Flex: Customizable - Regular, Max
Shaft Weight: 59g
Length: Customizable (42", 42.5", 43.5", 44.5" 45", 45.5", 46")
Head Size: 475 cc

Face Composition: beta-Titanium

Lie: 57.5° - 59°

Face Angle: -2.5° - 0.5°

Handedness: Right

Oversized super-high MOI due to 475cc head volume
Beta Titanium face for faster ball speed

Adjustable loft angle +/- 1.5° in increments of .75°

Adjustable lie angle 0.25° - .50°

Adjustable face angle 0.75° - 1.5°

Precision cast 6-4 titanium body

Lightweight distance shaft for maximum club speeds in multiple flexes

A complimentary torque wrench is provided with every driver to adjust the loft

At the moment this driver is only available right-handed
Max Flex is for slower swing speeds

Polara Golf strives to be a leader in producing high-quality golf products and is committed to the performance and durability of its products.  Please feel free to review our Limited Customer Warranty and Return Policy.
Orders requesting overnight shipping will be shipped the next day providing the order was placed prior to midnight Pacific Standard Time of that day.  If an order occurs too late on a Friday or weekend day, overnight shipment efforts will not commence until the following Monday.