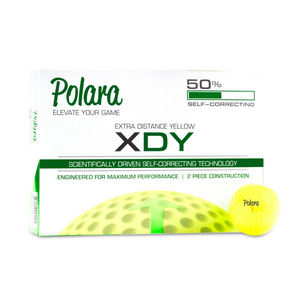 YELLOW XD EXTRA DISTANCE - ONE DOZEN GOLF BALLS
Sale price Price 14 reviews $39.95 Regular price
The Polara Golf XD (Extra Distance) now comes in yellow! The XD golf balls are for players who only need some correction on a hook or slice. The XD series will correct 50% of a draw or fade and can be used with a standard loft driver. 
The ball flight will have a higher trajectory and longer carrying distances than our Ultimate Straight golf balls – hence the designation "XD" for Extra Distance (relative to our Ultimate Straight). Get yours today and dramatically improve your golf game!
Features:
Recommended Driver Loft: Any Standard Loft
Construction:

2-piece

Ball Diameter: 1.682 inches
Ball Weight: 46.0 grams
Compression: 85
Core Material: Soft Resilient Polybutadiene
Core Diameter: 1.535 inches
Cover Material: Soft Surlyn
Cover Material Thickness: 0.073 inches
Cover Material Hardness: 62 Shore D
Number of Dimples: 336
Ball Flight Characteristics: 50% Self-Correcting Technology™
Orders requesting overnight shipping will be shipped the next day providing the order was placed prior to midnight Pacific Standard Time of that day.  If an order occurs too late on a Friday or weekend day, overnight shipment efforts will not commence until the following Monday.