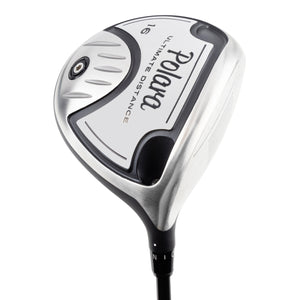 Ultimate Distance Driver 16 (Men's Right Hand)
Sale price Price 1 review $249.95 Regular price $199.00
The Ultimate Straight driver is the only driver that achieves the most straight distance with a Polara ball. The HOT non-conforming face exceeds the USGA's limit for CT - the time the ball is in contact with the driver's face and corresponds to springiness. The oversized 475 cc super high Moment of Inertia club head resists twisting and is more forgiving so off-center mishits will fly straighter and longer.
Loft: 16
Shaft Flex: Customizable - Regular, Max
Shaft Weight: 59g
Length: Customizable - 45" or 46"
Head Size: 475 cc
Face Composition: beta-Titanium
Lie: 57.5° - 59°
Face Angle: -2.5° - 0.5°
Handedness: Right
Oversized super-high MOI due to 475cc head volume
Beta Titanium face for faster ball speed

Adjustable loft angle +/- 1.5° in increments of .75°
Adjustable lie angle 0.25° - .50°
Adjustable face angle 0.75° - 1.5°
Precision cast 6-4 titanium body
Lightweight distance shaft for maximum club speeds in multiple flexes
A complimentary torque wrench is provided with every driver to adjust the loft

At the moment this driver is 

only

 available right-handed




Max flex is for slower swing speeds




Polara Golf strives to be a leader in producing high-quality golf products and is committed to the performance and durability of its products.  Please feel free to review our Limited Customer Warranty and Return Policy.
Orders requesting overnight shipping will be shipped the next day providing the order was placed prior to midnight Pacific Standard Time of that day.  If an order occurs too late on a Friday or weekend day, overnight shipment efforts will not commence until the following Monday. 
Customer Reviews
09/09/2023
MICHAEL K.

United States
The V2 is definitely superior than the original
The new, improved face is a big plus over the original model. The silver titanium face seems slightly hotter but also slightly stronger too. I know the V2 have adjustable hosels to adjust some lie and loft settings, but I still would like for Polara to produce a 10 or 10.5 degree men's head too. Two complaints and gripes: the first is minor. I would like to see Polara offer additional weight plugs to swap into the head (i.e. 12, 15, 18, 20 grams), but this can be easily solved with 3 gr or 6 gram lead tape pieces. The second complaint is major: PLEASE copy or use current Titliest adjustable driver hosels!!! I know Polara is a golf company for the masses and average golfers that want to enjoy golf more, but I hate adjusting my driver and losing the alignment on my grip with the club face. My two cents, but I think the current Titliest hosels are the very best…..small adjustments in loft and lie while still maintaining and keeping your shaft/grip alignment. Also someday, I would love to see Polara manufacture a hot, illegal 22-24 degree, oversized hybrid head (say around 250-300cc) someday
Customer Reviews
09/09/2023
MICHAEL K.

United States
The V2 is definitely superior than the original
The new, improved face is a big plus over the original model. The silver titanium face seems slightly hotter but also slightly stronger too. I know the V2 have adjustable hosels to adjust some lie and loft settings, but I still would like for Polara to produce a 10 or 10.5 degree men's head too. Two complaints and gripes: the first is minor. I would like to see Polara offer additional weight plugs to swap into the head (i.e. 12, 15, 18, 20 grams), but this can be easily solved with 3 gr or 6 gram lead tape pieces. The second complaint is major: PLEASE copy or use current Titliest adjustable driver hosels!!! I know Polara is a golf company for the masses and average golfers that want to enjoy golf more, but I hate adjusting my driver and losing the alignment on my grip with the club face. My two cents, but I think the current Titliest hosels are the very best…..small adjustments in loft and lie while still maintaining and keeping your shaft/grip alignment. Also someday, I would love to see Polara manufacture a hot, illegal 22-24 degree, oversized hybrid head (say around 250-300cc) someday